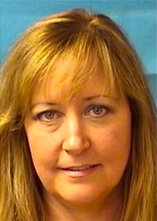 Name:

Holly Alcott White

Gender:
Female
Race:
Caucasian
DOB:
Unknown
Age:
49
Height:
5ft 11in
Weight:
200 lbs
Hair:
Blond
Eyes:
Green

Last Known Location: Taos, NM

Missing As Of: 05/05/2016
If you have information about Holly White that may lead to her safe return or the arrest of all responsible parties in her disappearance, PLEASE contact the New Mexico State Police at 505-454-5010.

TO REMAIN ANONYMOUS, contact Taos County Crime Stoppers at 575-758-HALT (4258), submit an anonymous tip by clicking the link below or with the P3 Tips Mobile App (available for iOS and Android devices).

Taos County Crime Stoppers pays rewards up to $1000 for information that may solve this case. There is also a $5,000 reward for her safe return.